How to heal from the high emotional costs of financial scams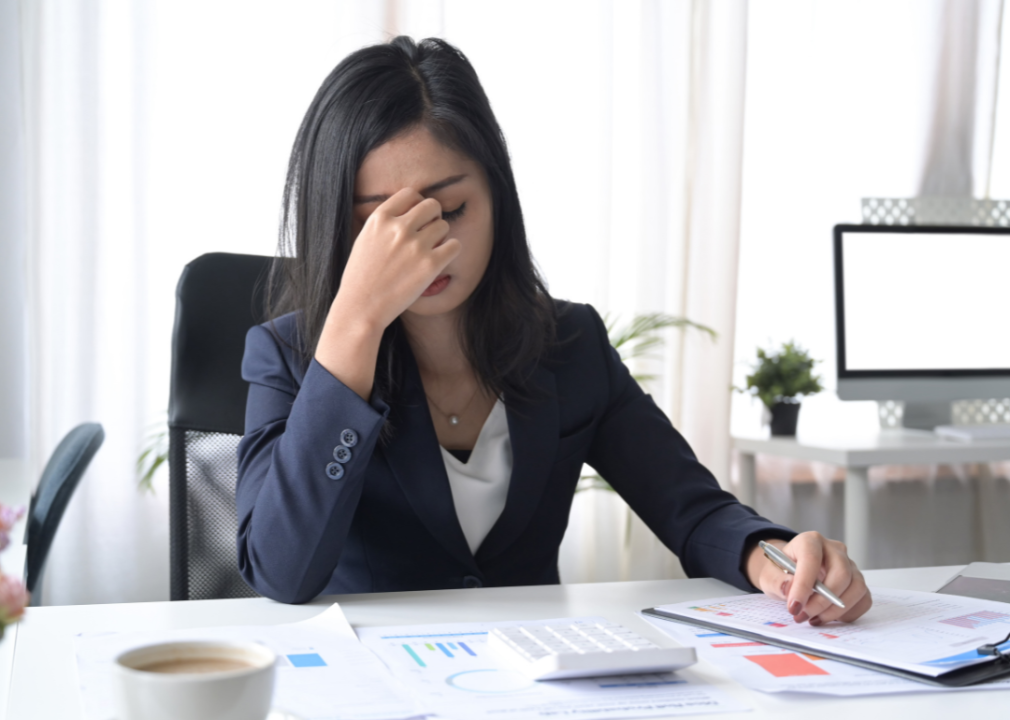 Canva
How to heal from the high emotional costs of financial scams
A businesswoman seated at a desk holds a hand to her face in worry.
There are millions of victims of financial fraud every year – and the problem is getting worse. Yet, because financial fraud normally occurs out of public view, many victims feel isolated and ashamed. The United States Department of Justice estimates that only 15% of victims of financial fraud report the crime because they are embarrassed, feel guilty, or think nothing can be done.
TD Bank spoke with Dr. Traci Williams, a board-certified psychologist and certified financial therapist, on how to heal emotionally after a financial scam.
It's typical for victims of financial fraud to experience all these emotions according to Dr. Williams. She adds that victims may also feel angry, violated, anxious, shocked, sad, and hopeless. Moreover, even a small loss can have a profound impact on victims.
"How [financial fraud] impacts you isn't necessarily tied to how much money is lost," explains Dr. Williams. Many victims of financial fraud are "tech-savvy and very intelligent" so no one is immune.
That's true of Karen St. Esprit, a business owner in Pittsburgh whose checking and savings accounts were depleted after someone called claiming to be from her bank. The caller knew details about her financial history, including when she first opened her account, and even played the bank's signature hold music.
"I felt like someone invaded my privacy," St. Esprit says, "How could they possibly have gotten into my [accounts]? I am very computer savvy. I am cautious about passwords and websites…I am embarrassed and hurt that I fell for this." She had a hard time sleeping and didn't initially share what happened with friends and family.
Although most financial fraud victims feel a range of emotions, the length and intensity of these feelings can vary widely. Some victims of financial fraud are upset for a few days and move on while others may develop full-fledged Post Traumatic Stress Disorder (PTSD). Some victims may have an uncomfortable relationship with money for years after experiencing financial fraud.
Dr. Williams says some victims ignore anything having to do with finances to the point that they can't bring themselves to pay routine bills. Others save obsessively in case they are victimized again or go on spending sprees using the logic that they might as well enjoy themselves before someone steals from them again.
No matter how a victim of financial fraud reacts, Dr. Williams suggests the following steps to help people recover and repair their relationship with money.
Be empathetic to yourself: Victims should remind themselves that it's not their fault they were taken advantage of and that they "don't have control over what criminals do," according to Dr. Williams. She adds that "scammers will probably always be around," noting that many who commit financial fraud are "charismatic" and skilled at parting victims from their money.
Remind yourself you are not alone: Because victims of financial fraud are reluctant to talk about the crime, it's easy for victims to feel alone. Dr. Williams thinks victims should remind themselves that financial fraud is "significantly underreported" and that they aren't alone. This can help assuage feelings of guilt.
Monitor accounts: It's common for victims of financial fraud to lose trust in financial institutions – and themselves. Dr. Williams recommends that victims monitor their accounts regularly for suspicious activity to help rebuild confidence that their finances are secure. Regular monitoring can also ensure swift action if something is amiss, which helps many victims feel in control. However, Dr. Williams cautions that monitoring should not be "obsessive." Checking accounts multiple times a day is not healthy, but checking on finances a couple of times a week can be reassuring and provide a sense of security. Over time, this can help victims regain trust in financial institutions and themselves.
Implement layers of protection: For some victims of financial fraud, adding layers of protection can be reassuring. One step Dr. Williams recommends is putting a credit freeze into effect. This prevents others from opening new accounts in someone's name without their knowledge. Dr. Williams also advises using two-factor authentication wherever possible. That way, if someone tries to break into an account, they will have to go through multiple sites to gain access, and there is a greater chance a potential victim will be alerted to the attempt before any harm is done.
Learn about techniques to protect yourself: According to Dr. Williams, it's empowering to learn about common scams and how to guard against them. For example, Dr. Williams says that consumers can contact their bank and credit card provider and ask how they communicate suspicious activity. Dr. Williams suggests that if someone reaches out purporting to be from a financial institution, don't take the call, respond to a text, or follow a link in an email. Instead, ignore whatever instructions they give for replying and call the financial intuition's publicly listed number directly. Ask whether they attempted to contact you and if they didn't, report the incident to the financial intuition's fraud department. Because criminals can easily make an incoming call or text look like it's coming from your bank, don't trust the number that shows up on your screen or hit redial. Learning about other common schemes, and staying abreast of new ones, can help victims of financial fraud regain a sense of control over their finances.
Seek out additional support: It's perfectly normal for it to take time for victims of financial fraud to recover emotionally, as well as financially. However, some victims experience prolonged distress and have more significant reactions than others. Dr. Williams says it's time to seek out professional help if feelings of anger, sadness, or guilt last longer than two weeks. She also recommends that victims find help if dealing with the aftermath of financial fraud is impacting their quality of life to the point that they are having trouble sleeping, have thoughts of hurting themselves or someone else, experience anxiety whenever they think about finances, or otherwise experience distress that interferes with their ability to function normally. Financial therapists who are trained to help victims of financial fraud may be particularly helpful. Support groups can also help those who feel isolated or do not want to talk about what happened with friends or family feel less alone, according to Dr. Williams.
This story was produced by TD Bank and reviewed and distributed by Stacker Media.
---