How Americans shopped Black Friday weekend amid inflation and fears of recession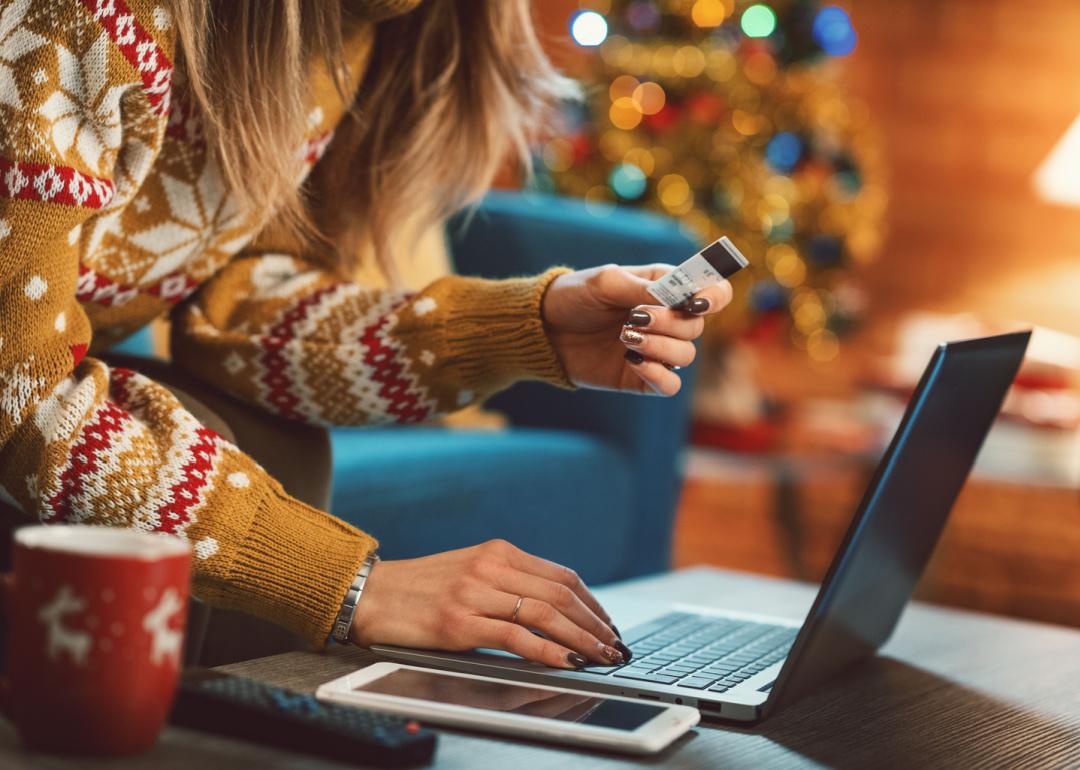 Stock-Asso // Shutterstock
How Americans shopped Black Friday weekend amid inflation and fears of recession
Person shopping for Christmas presents online.
The 2022 holiday shopping season is barely in the rearview, but the numbers are already showing signs that consumers are pulling back on spending after years of explosive growth. Could it signal that prices are nearing a point beyond which shoppers will not—or cannot—follow?
Shopdog analyzed the latest available data from the Bureau of Economic Analysis, the Census Bureau, and Shopify to illustrate how consumer spending over the Black Friday/Cyber Monday holiday has looked each year since the pandemic began.
The emergence of COVID-19 brought major repercussions for consumer spending around the world. At the end of 2020, holiday spending hit a record high. But in 2021, the explosion in holiday spending was even bigger, driven by government stimulus checks and pent-up demand.
The prices of goods and services in the U.S. rose 7.1% in November 2022 compared with the same month in 2021, according to the Bureau of Labor Statistics. Prices have been increasing at a much higher rate than at any other time in the last four decades, a phenomenon that began at the start of 2021 as COVID-19 vaccines were made widely available and bailout funding was doled out to consumers.
And yet Black Friday/Cyber Monday weekend shoppers in 2022 spent 10% more than the previous year, setting another new record, according to the National Retail Federation—an organization that lobbies on behalf of more than 17,000 leading retailers.
For the 2022 holiday season, gift-buying behaviors were different from previous pandemic years. And that shifting holiday spending landscape may hold some signs as to whether Americans should expect a recession in the year ahead—or perhaps something less disruptive.
The National Retail Federation also estimates that around half of Americans waited to finish their holiday shopping until the last possible weekend before Christmas. A total of 158 million consumers in the U.S. still had shopping to do on so-called "Super Saturday" weekend, a record the retail lobbying group said it hasn't seen since it began tracking final-weekend spending in 2016.
---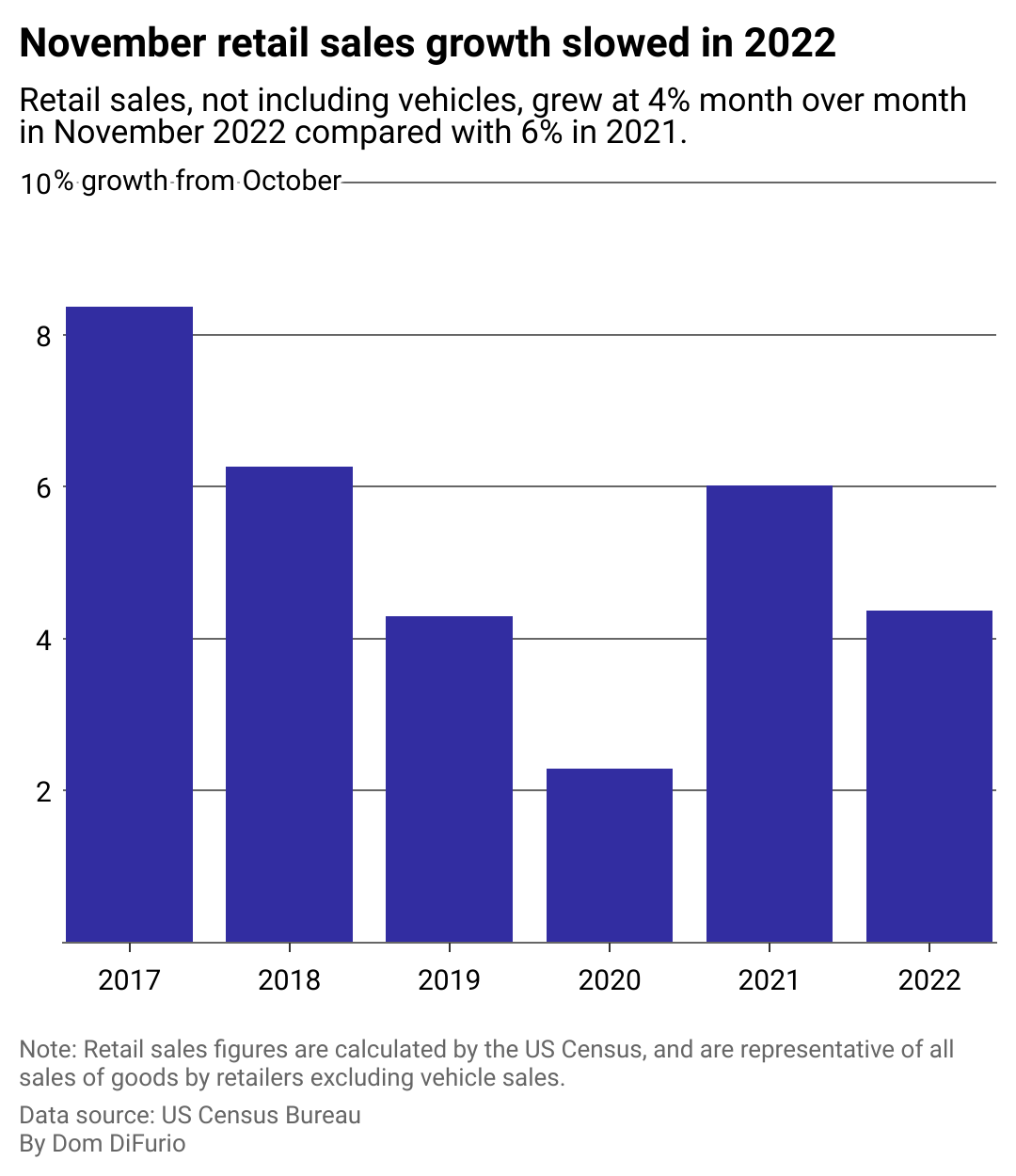 Shopdog
Retail sales growth slows to pre-pandemic rate
A chart showing that consumer spending on retail goods, not services, grew at a slower pace, month over month in November 2022 compared with the previous year.
Typically, the holiday shopping season spanning late November through December sees an uptick in consumer spending compared with the previous months—and one that retail companies rely on to remain profitable. November retail sales growth was positive in 2022, but grew at a slower rate than during the 2021 Black Friday shopping holidays.
Gallup polling conducted in November 2022 revealed that shoppers intended to spend less for the holidays in 2022 compared with the previous year. In the three decades since Gallup has begun tracking the sentiment, a majority of respondents have said they intend to spend the same amount as the previous year with one exception—2008.
By December, before firm government statistics were even available, companies reporting earnings to Wall Street analysts and investors gave some insight into how shoppers were slowing down on spending. In January 2023, clothing retailer Express reported to investors that the actual figures had borne out its prediction a month earlier of a loss, citing "reduced spending in discretionary categories and an increased appetite for deep discounts."
---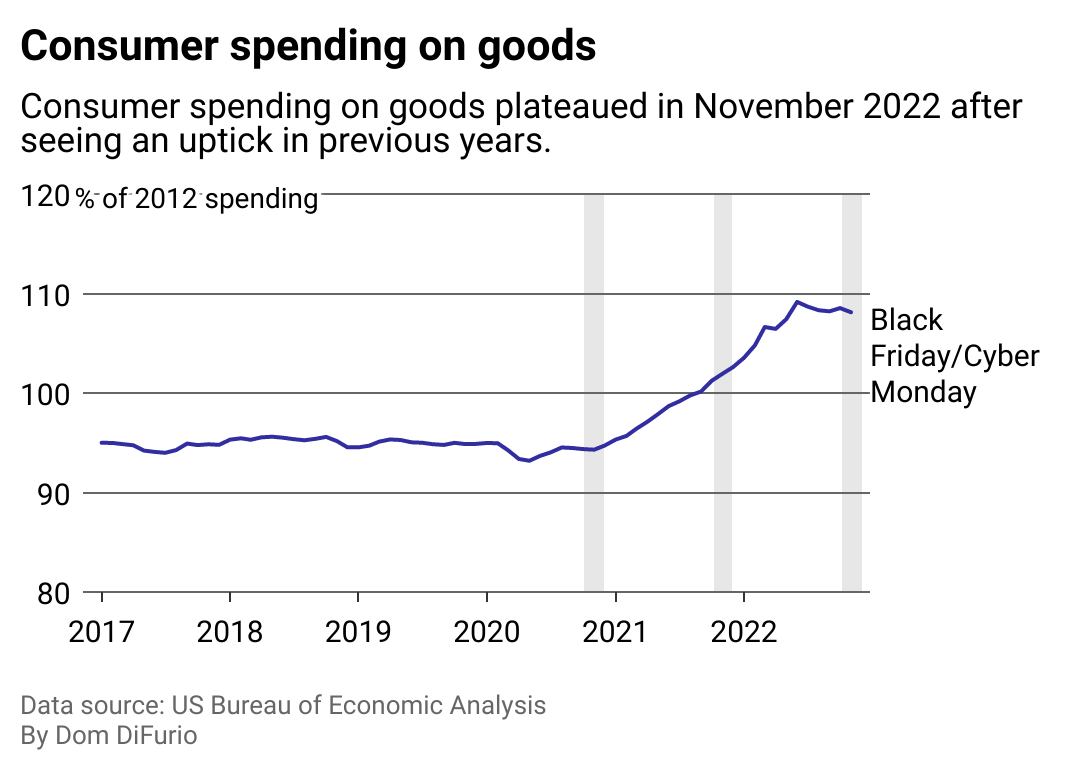 Shopdog
Consumer spending on goods plateaus in November 2022
A chart showing that consumer spending on retail goods plateuaed in November 2022 after increasing for several years since the COVID-19 pandemic started.
Americans purchased more and more goods each Black Friday/Cyber Monday weekend in 2020 and 2021—but that spending appears to have turned a corner in 2022 as spending on goods plateaued.
The Bureau of Economic Analysis uses Personal Consumption Expenditures data to measure how much money is flowing from consumers' pockets to retail and consumer companies. The above graph shows only spending on retail goods and not services, and the figure can be read as a percentage of 2012 spending—the year to which it is benchmarked.
Americans splurged on durable goods like furniture, home appliances, and exercise equipment over the 2020 and 2021 holiday seasons. For 2022, there is growing evidence that consumers shifted to spending on experiences and travel—a sector that typically sees cyclical boom times surrounding spring break and summer months.
---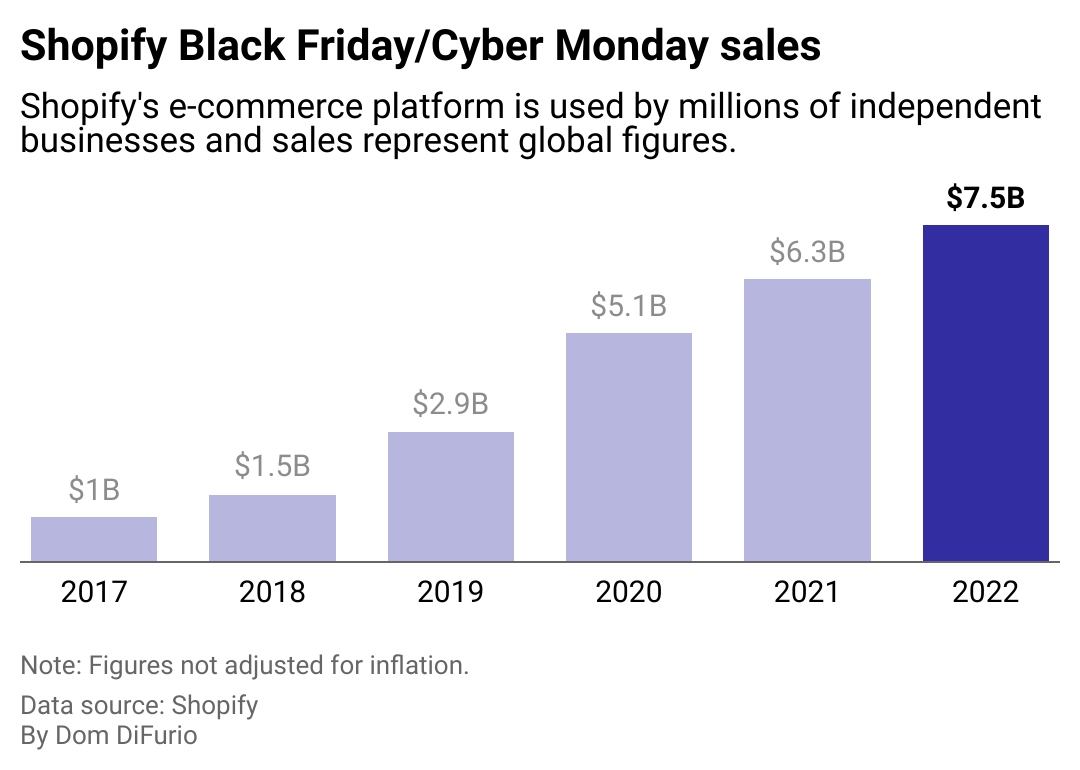 Shopdog
E-commerce sales continue to grow globally
A chart showing Shopify sales data from the Black Friday/Cyber Monday holiday weekend. Sales in 2022 totaled $7.5 billion globally, up from $6.3 billion from the same weekend in 2021.
Sales data shared by e-commerce platform Shopify—which caters to smaller, independent retailers—show Black Friday/Cyber Monday weekend sales growing year over year, including in 2022, before being adjusted for inflation, which is also plaguing the rest of the world.
According to U.S. Census Bureau data, e-commerce retail sales in the U.S. specifically have continued to grow quarter after quarter, though at a slower rate in 2022 than at the start of 2020 when social distancing measures pushed consumers to spend more online.
Meanwhile, major logistics company FedEx, which recently raised its shipping rates, is also barking about plummeting demand. The company's CEO has been warning that a global recession is looming since late summer.
This story originally appeared on Shopdog and was produced and
distributed in partnership with Stacker Studio.
---