Police investigating fake antifa letter meant to harass local woman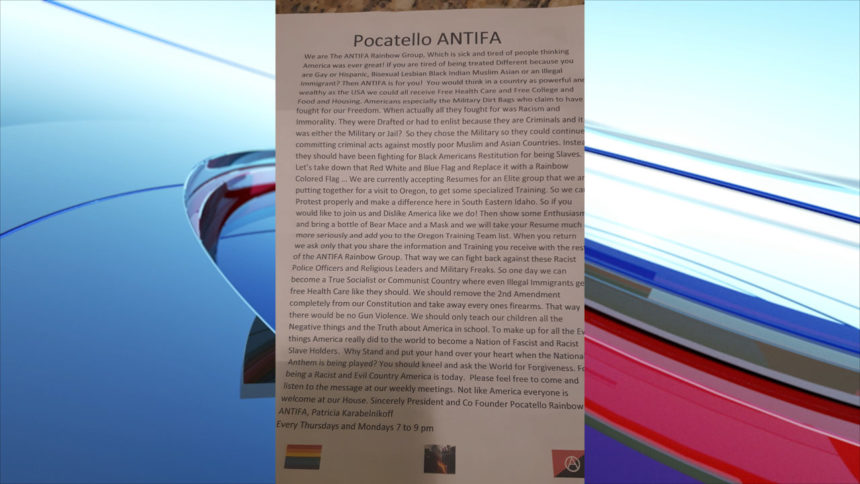 POCATELLO, Idaho (KIFI/KIDK) - People were shocked and confused when they received a letter inviting them to join an extremist anti-fascist group.
But Pocatello police say the letter was meant for something else: to encourage the community to harass a local woman.
Over the weekend, people all over the area received a letter encouraging them to attend meetings for the 'ANTIFA Rainbow Group' in Pocatello.
"It's an absolute hoax," said Sgt. Brian McClure.
The letter included the name and address of Pocatello woman, Patricia Karabelnikoff, claiming she was the co-founder and organizer of the group.
"(The letter was sent) to Pocatello, Inkom, Lava (Hot Springs), Jackson Hole, Idaho Falls, Rigby, Rexburg, just all over southern Idaho and Wyoming," McClure said.
Antifa, short for anti-fascist, is a "political protest movement comprising autonomous groups affiliated by their militant opposition to fascism and other forms of extreme right-wing ideology," according to the Oxford dictionary.
"As you read the flyer, it's very inflammatory. I've read antifa before, and it doesn't follow their normal publication. It's not that inflammatory," McClure said.
"So if you would like to join us and Dislike America like we do! Then show some Enthusiasm and bring a bottle of Bear Mace and a mask and we will take your Resume," the letter reads.
"I'm scared. I'm very scared, especially that someone would use our address and ask that these people get dressed up and bring bear mace," Karabelnikoff said.
Police are so concerned for her safety, cruisers remain parked on her street for protection.
"We have noticed people driving by that I don't know, driving slowly," Karabelnikoff said.
The flyer suggests that meetings happen at her home twice a week.
"Yeah, Monday and Thursday. Nothing happened Monday. Tomorrow night hopefully nobody will show up, but there's going to be a big police presence and I feel protected that way," Karabelnikoff said.
"It's going to be an ongoing security situation for her," McClure said.
This is not the first time a mass letter with Karabelnikoff's address has been distributed.
"I believe all of this started with a letter that happened last summer with the 'Lost Pet Finders.' It's very similar: the font, the envelopes," Karabelnikoff said.
The first letter claimed she ran an animal shelter at her home and asked people to check if their lost pet was at her home. Police and animal services checked into that case back in August, but found the letter to be false, not realizing the severity of the harassment at the time.
"We've combined the two investigations," McClure said.
Karabelnikoff has an idea of who she thinks is sending these letters, but McClure said the suspect pool is wide right now.
"I hope these people are found," Karabelnikoff said.
Letters turned over to police are being processed by a forensic lab in Boise for evidence. The investigation will include state, local and federal law enforcement as well as the United States Postal Inspection Service.
If a suspect is identified, they could be charged with harassment, stalking and even mail fraud.
"It covers a broad spectrum from local charges all the way through the federal system," McClure said.
Despite the situation, Karabelnikoff said she's also received love and support from neighbors.
"It's scary but I think the biggest thing is that I'm truly touched by my friends," Karabelnikoff said.
The investigation is ongoing.