UPDATE: INL Site tour ends in multivehicle crash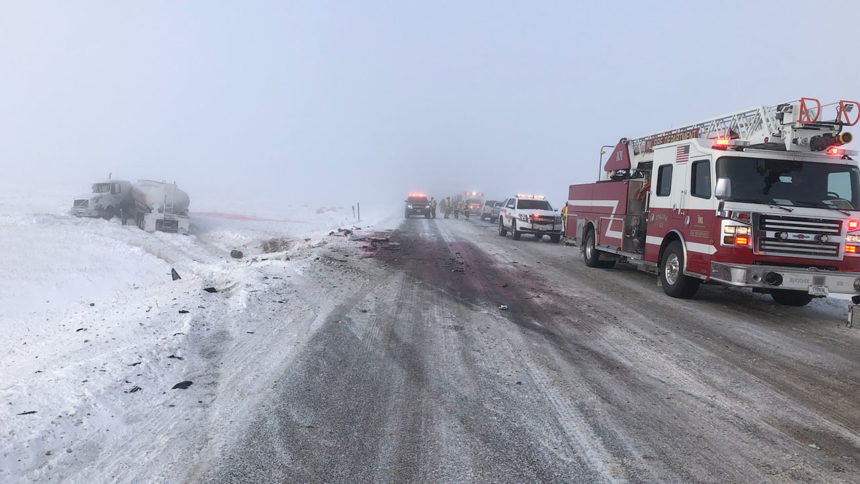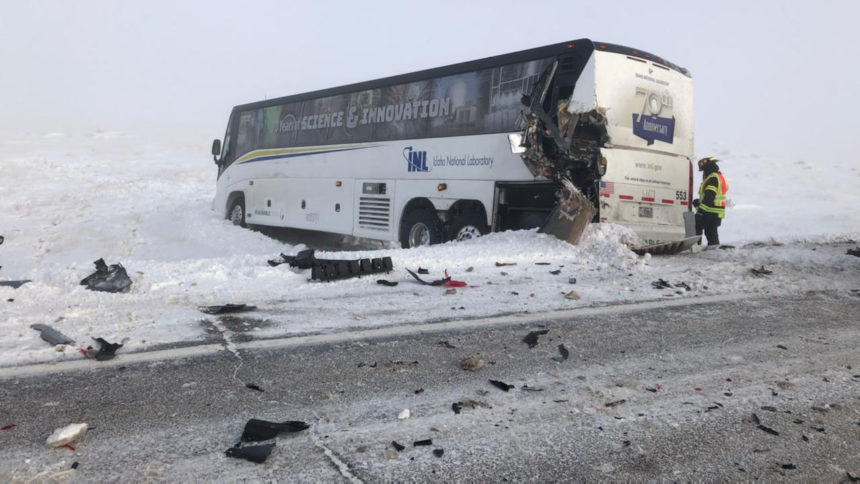 IDAHO FALLS, Idaho (KIFI/KIDK) - UPDATE 5:00 p.m. Idaho State Police investigated a multiple-vehicle crash, on US-20 near milepost 272, east of INL in Bingham County Wednesday around 8:40 a.m.
ISP reoprts Brenda J. Deans, 64, of Ammon, was driving a 2018 Ford Explorer. Miles R. Muir, 34, of Idaho Falls, was driving a 2015 INL Motor Coach Bus. David B. Taylor, 62, of Ammon, was driving a Volvo Semi pulling a fuel tanker trailer. Joshua D. Steineckert, 29, of Salt Lake City, was driving a 2019 Nissan Xterra. Aaron H. Varnes, 39, of Idaho Falls, was driving a 2018 Toyota Tacoma pickup. Brett C. Stacey, 45, of Idaho Falls, was driving a 2017 Ford F150 pickup.
All drivers were traveling westbound on US-20, entering a low visibility area with fog, wind and blowing snow. Deans stopped on the highway blocking the westbound lane. Muir then stopped behind her. Taylor was unable to stop and veered to the left striking the bus. The semi came to rest off the right shoulder. The bus then struck the Explorer sending both vehicles off the right shoulder. As a result of the crash, the tanker trailer was punctured and leaked approximately 3,000 gallons of fuel. A clean-up and Hazmat crew are on the scene.
A second crash occurred when Stacey moved to the right attempting to avoid the initial crash. Varnes was unable to stop and struck the rear of Stacey's Ford F150 pickup. Steineckert then struck the rear of Varnes' vehicle which was pushed off the right shoulder striking the Ford Explorer.
Taylor was transported via personal vehicle to Eastern Idaho Regional Medical Center in Idaho Falls. All other drivers and passengers were transport to the Central Medical Facility at INL. The bus had 30 passengers on it.
All drivers were wearing seatbelts.
The road has been blocked since the crash occurred and recovery crews are still in the process of removing the Semi Tanker and INL Bus.
This crash is under investigation by the Idaho State Police and they were assisted by the INL EMS, INL Security, INL Site Safety and the Idaho Transportation Department.
---
UPDATE 2:40 p.m. A crash involving an Idaho National Laboratory bus, a private fuel tanker, two government vehicles and two private vehicles occurred on U.S. 20 west of Idaho Falls around 8:40 a.m. Wednesday.
The passengers on the bus were 30 newly hired INL employees on a Site tour.
Nine people were transported by ambulance, 21 people were transported by bus, and three went by personal vehicle to INL's Central Facilities Area Medical Dispensary for evaluation.
Initial reports are that any injuries are minor and non-life-threatening.
The cause of the accident is under investigation by Idaho State Police.
---
ORIGINAL: Idaho State Police officers are investigating a crash that is blocking both eastbound and westbound lanes on US20 at milepost 273, east of INL.
There is a HazMat team from the INL there, and ISP has HazMat troopers responding.
Police are reporting minor injuries.
The road is currently closed, and ISP asks you use alternate routes of travel.
Follow Local News 8 and KIDK Eyewitness News 3 as more information is released.