Cities with the most expensive homes in Idaho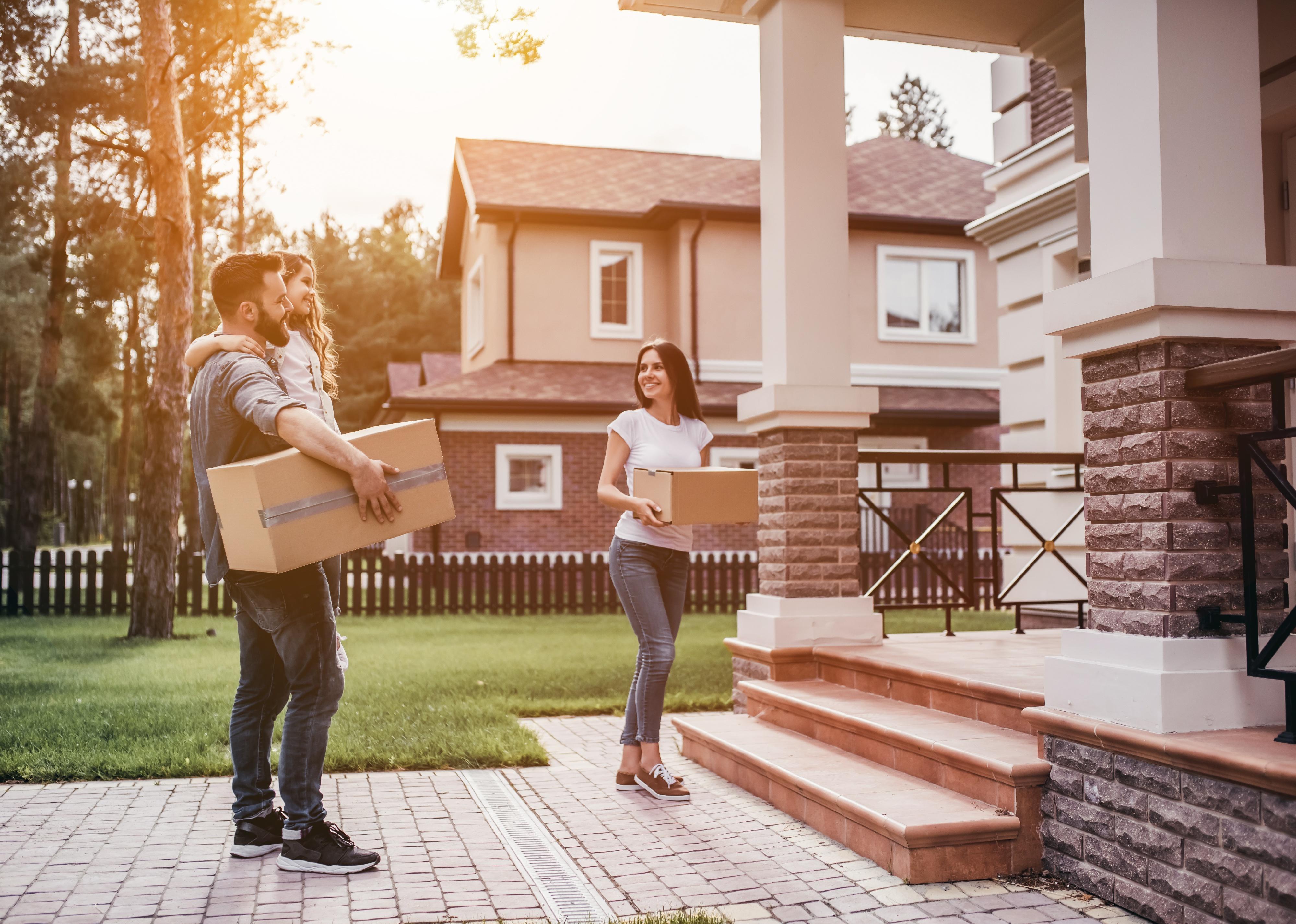 4 PM production // Shutterstock
Cities with the most expensive homes in Idaho
Stacker compiled a list of cities with the most expensive homes in Idaho using data from Zillow. Cities are ranked by the Zillow Home Values Index for all homes as of July 2022. The charts in this story were created automatically using Matplotlib. The most expensive city on the list has a typical home value of $1,230,418 which is 161% higher than the state average of $472,272.
Metros with the most cities in the top 30 in Idaho
#1. Sandpoint: 8
#2. Coeur d'Alene: 7
#3. Boise City: 4
#3. Hailey: 4
#3. Jackson: 4
#6. Idaho Falls: 1
Read on to see which cities made the list.
You may also like: Best private high schools in Idaho
You may also like: Cities with the fastest-growing home prices in Idaho
---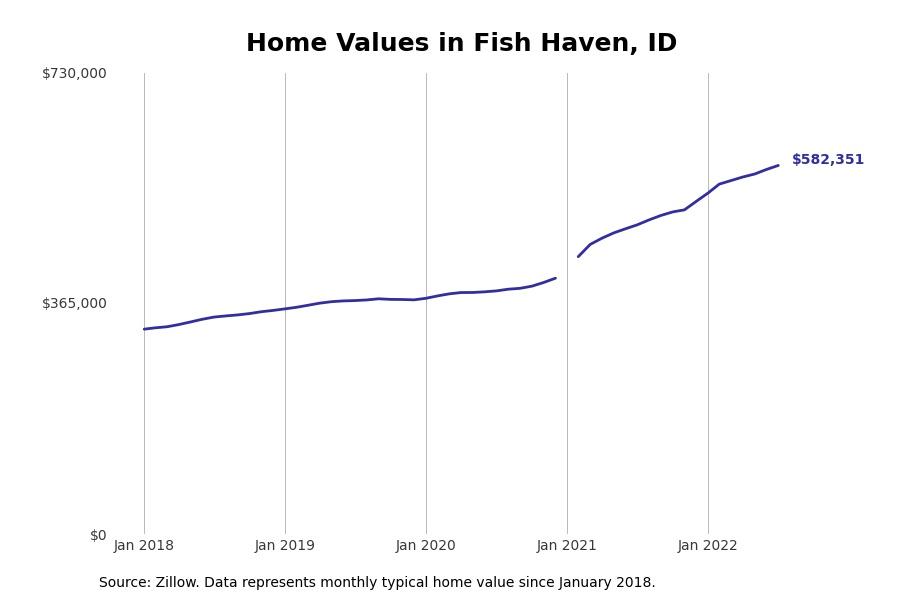 Stacker
#30. Fish Haven
– Typical home value: $582,351
– 1-year price change: +19.2%
– 5-year price change: +89.6%
– Metro area: not in a metro area
---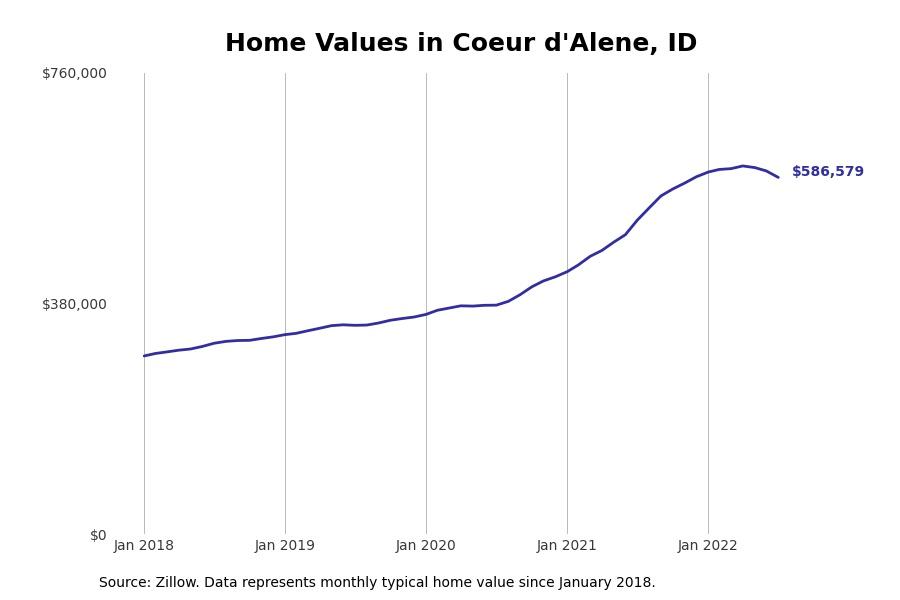 Stacker
#29. Coeur d'Alene
– Typical home value: $586,579
– 1-year price change: +13.6%
– 5-year price change: +112.8%
– Metro area: Coeur d'Alene
---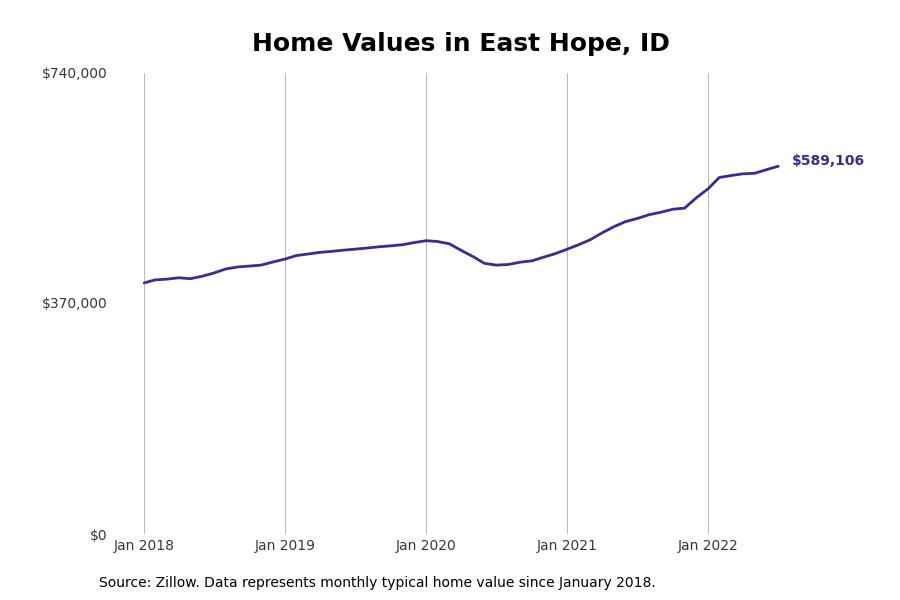 Stacker
#28. East Hope
– Typical home value: $589,106
– 1-year price change: +16.6%
– 5-year price change: +48.6%
– Metro area: Sandpoint
---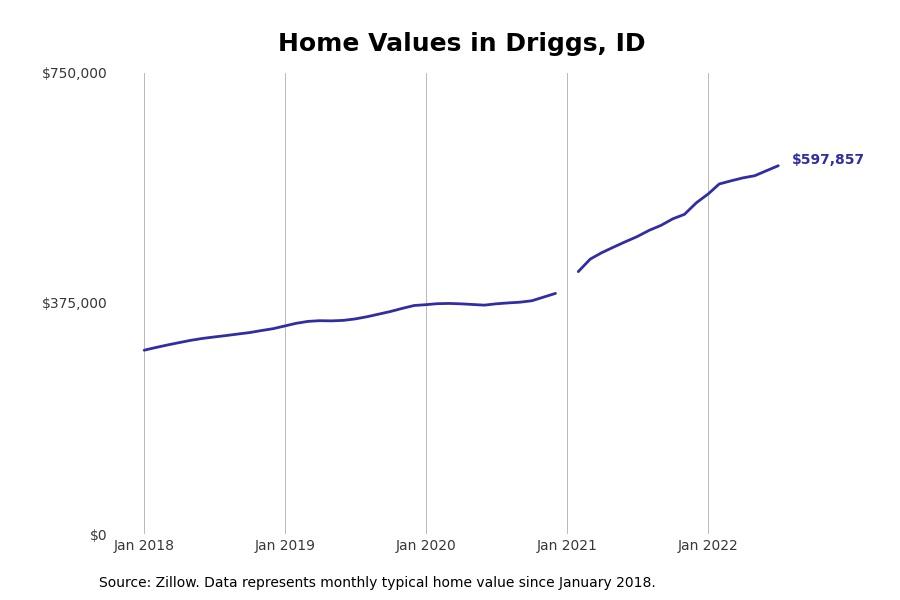 Stacker
#27. Driggs
– Typical home value: $597,857
– 1-year price change: +23.8%
– 5-year price change: +112.4%
– Metro area: Jackson
---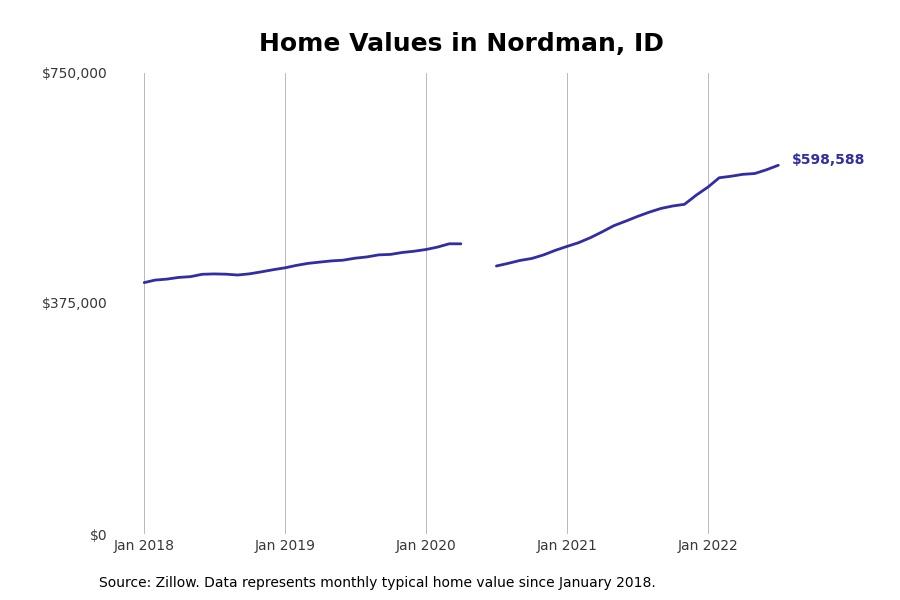 Stacker
#26. Nordman
– Typical home value: $598,588
– 1-year price change: +16.1%
– 5-year price change: +55.7%
– Metro area: Sandpoint
You may also like: Counties with the most born-and-bred residents in Idaho
You may also like: Most popular boy names in the 70s in Idaho
---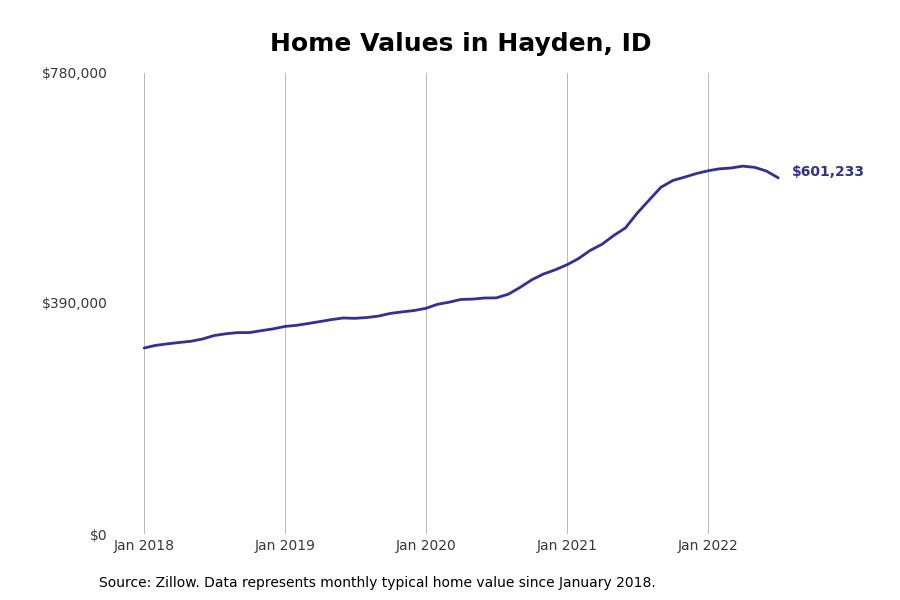 Stacker
#25. Hayden
– Typical home value: $601,233
– 1-year price change: +10.9%
– 5-year price change: +103.1%
– Metro area: Coeur d'Alene
---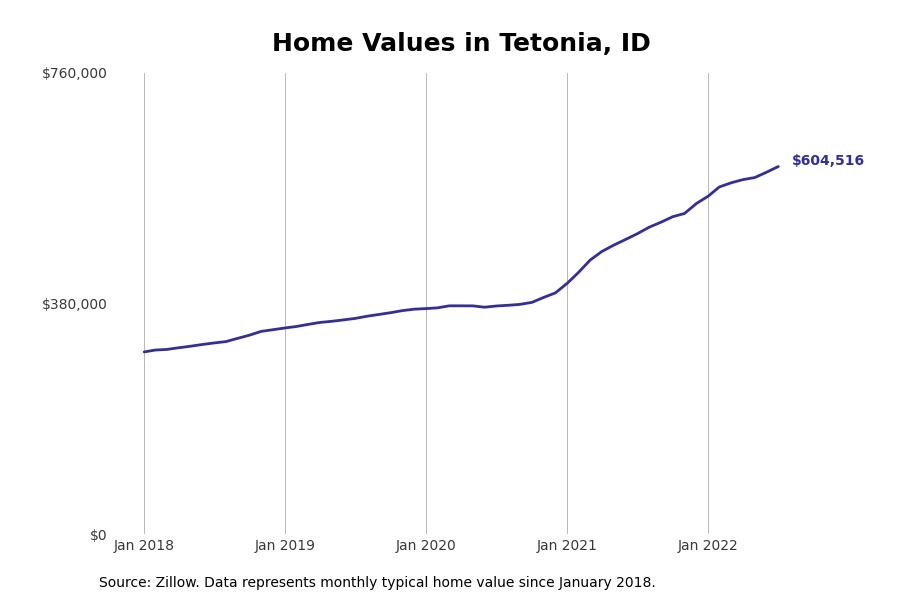 Stacker
#24. Tetonia
– Typical home value: $604,516
– 1-year price change: +22.4%
– 5-year price change: +115.7%
– Metro area: Jackson
---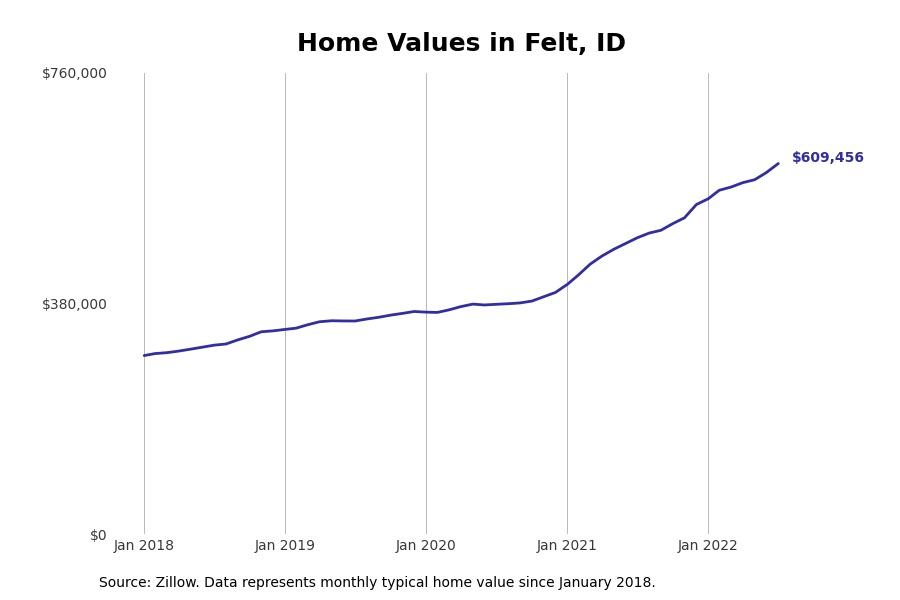 Stacker
#23. Felt
– Typical home value: $609,456
– 1-year price change: +25.1%
– 5-year price change: +122.0%
– Metro area: Jackson
---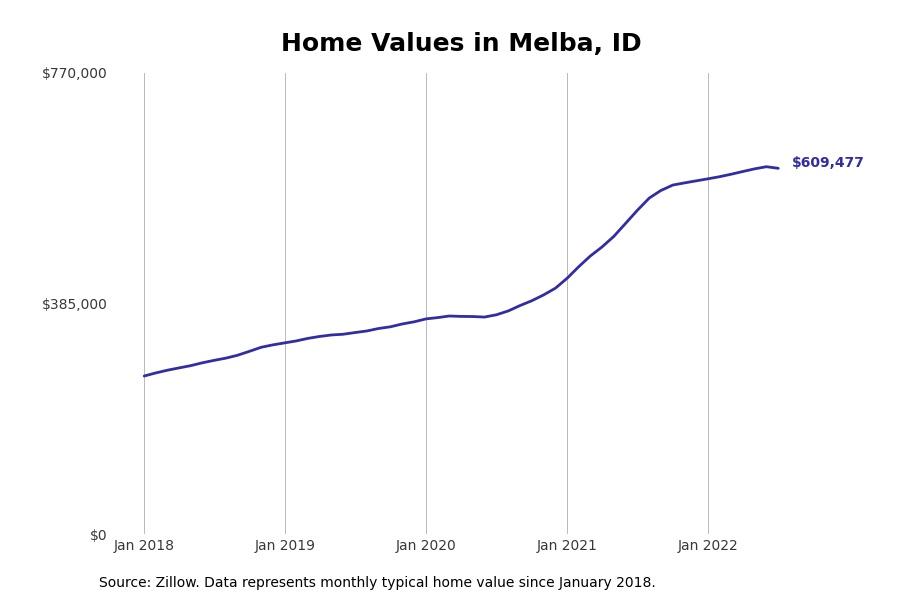 Stacker
#22. Melba
– Typical home value: $609,477
– 1-year price change: +13.0%
– 5-year price change: +140.7%
– Metro area: Boise City
---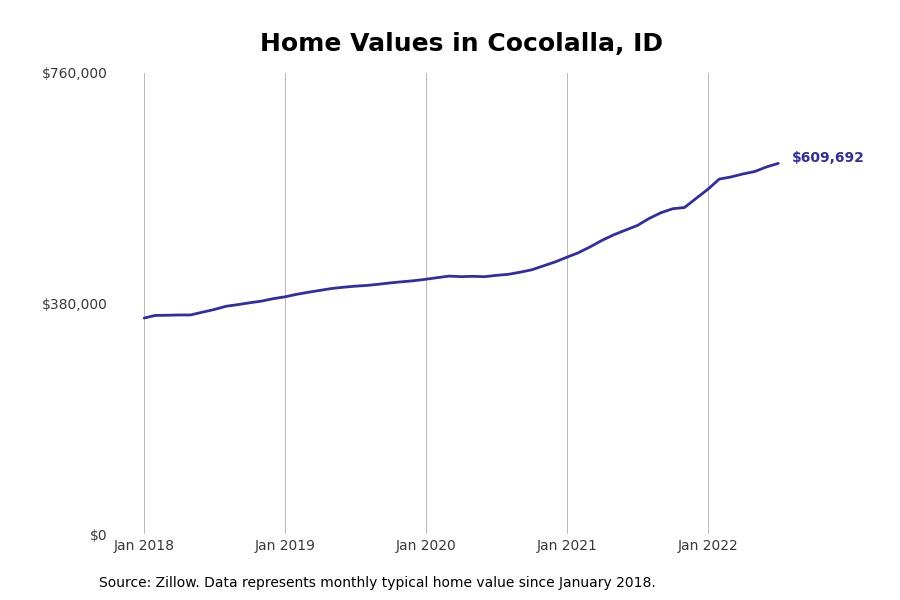 Stacker
#21. Cocolalla
– Typical home value: $609,692
– 1-year price change: +20.1%
– 5-year price change: +82.8%
– Metro area: Sandpoint
You may also like: Counties with the lowest home prices in Idaho
You may also like: Best counties to live in Idaho
---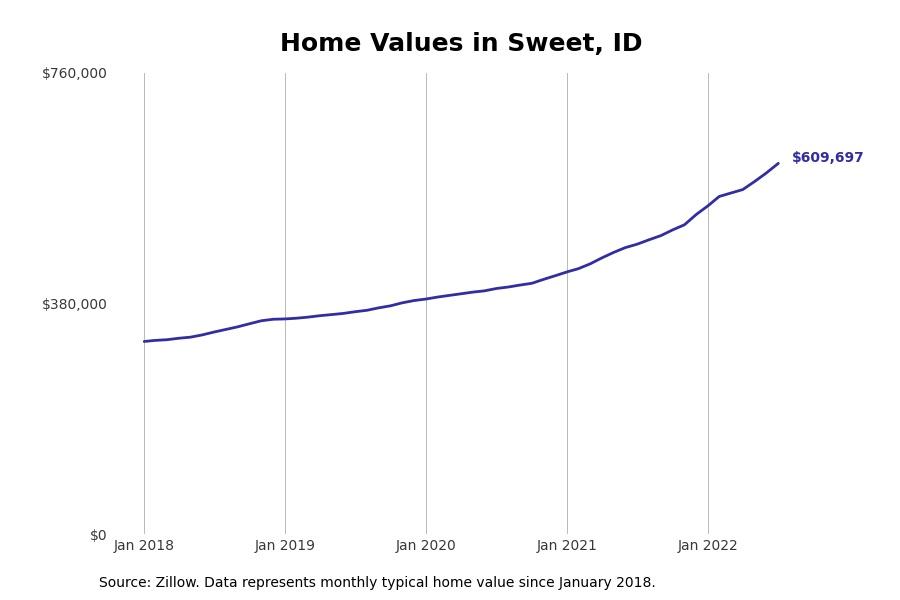 Stacker
#20. Sweet
– Typical home value: $609,697
– 1-year price change: +27.9%
– 5-year price change: data not available
– Metro area: Boise City
---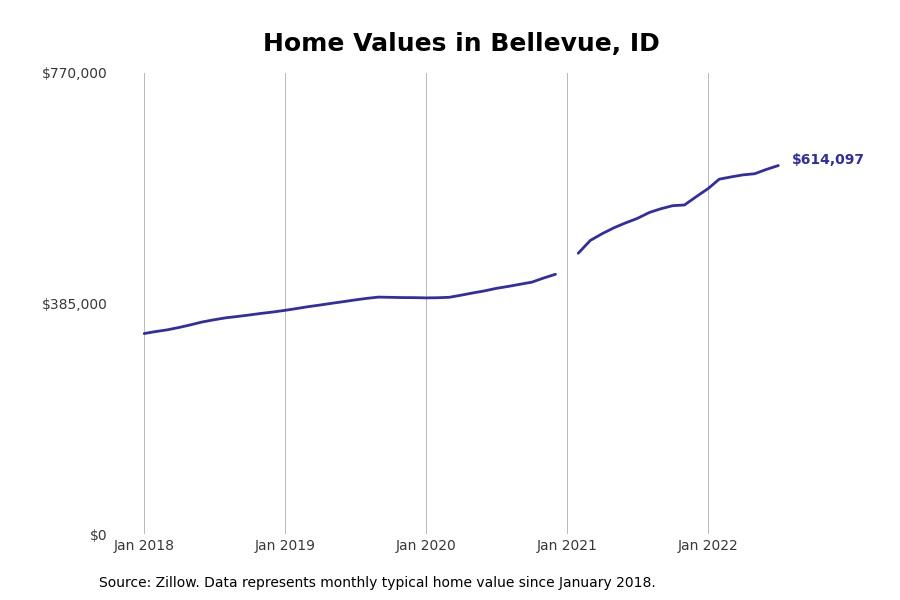 Stacker
#19. Bellevue
– Typical home value: $614,097
– 1-year price change: +16.7%
– 5-year price change: +93.2%
– Metro area: Hailey
---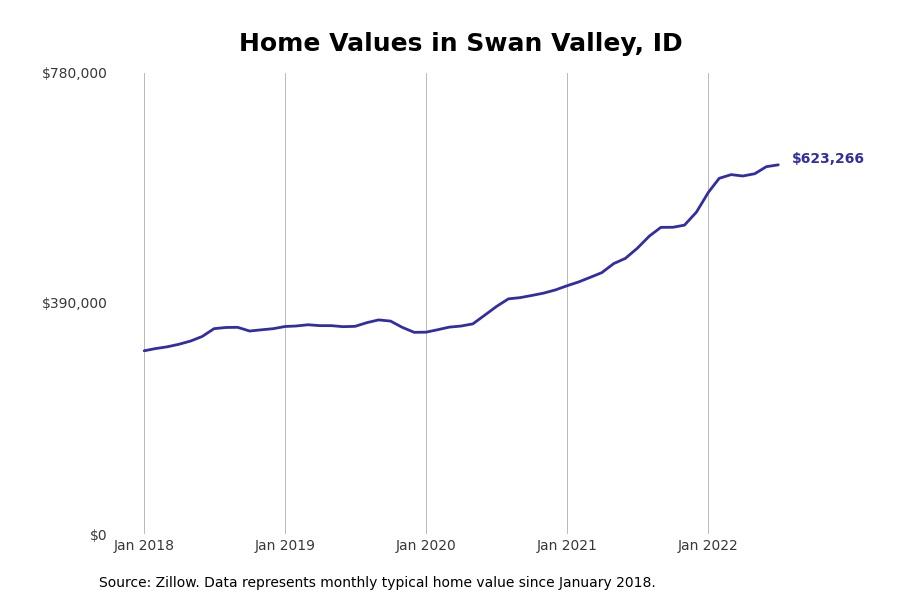 Stacker
#18. Swan Valley
– Typical home value: $623,266
– 1-year price change: +29.2%
– 5-year price change: +106.0%
– Metro area: Idaho Falls
---

Stacker
#17. Laclede
– Typical home value: $636,170
– 1-year price change: +15.9%
– 5-year price change: +72.7%
– Metro area: Sandpoint
---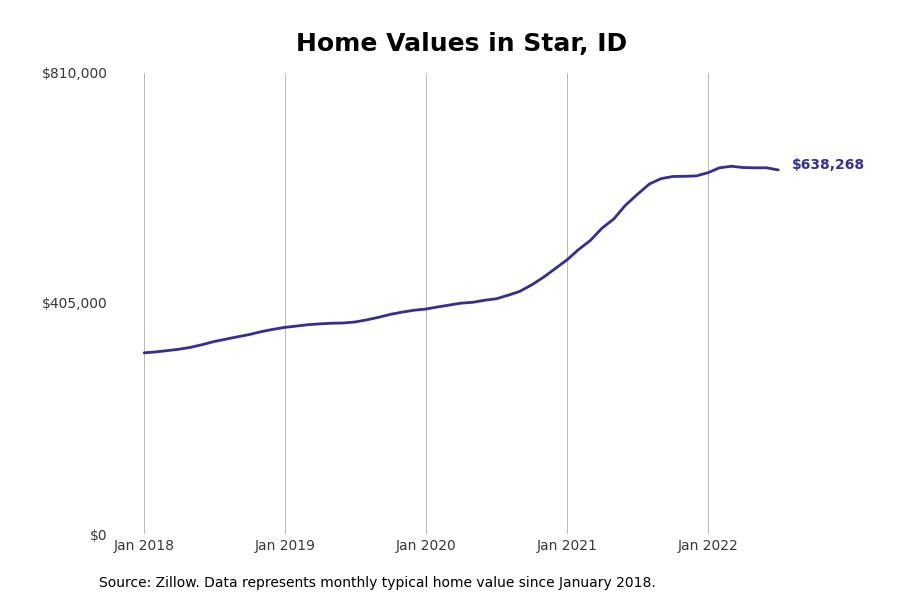 Stacker
#16. Star
– Typical home value: $638,268
– 1-year price change: +7.2%
– 5-year price change: +113.3%
– Metro area: Boise City
You may also like: Counties with the worst commutes in Idaho
You may also like: Fewer crops—like onions: How climate change has affected Idaho
---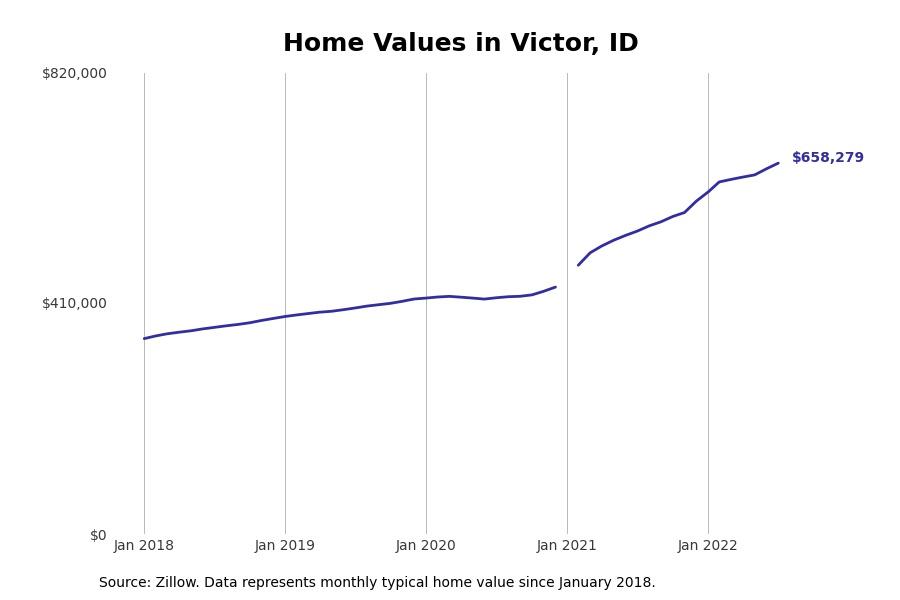 Stacker
#15. Victor
– Typical home value: $658,279
– 1-year price change: +22.4%
– 5-year price change: +99.8%
– Metro area: Jackson
---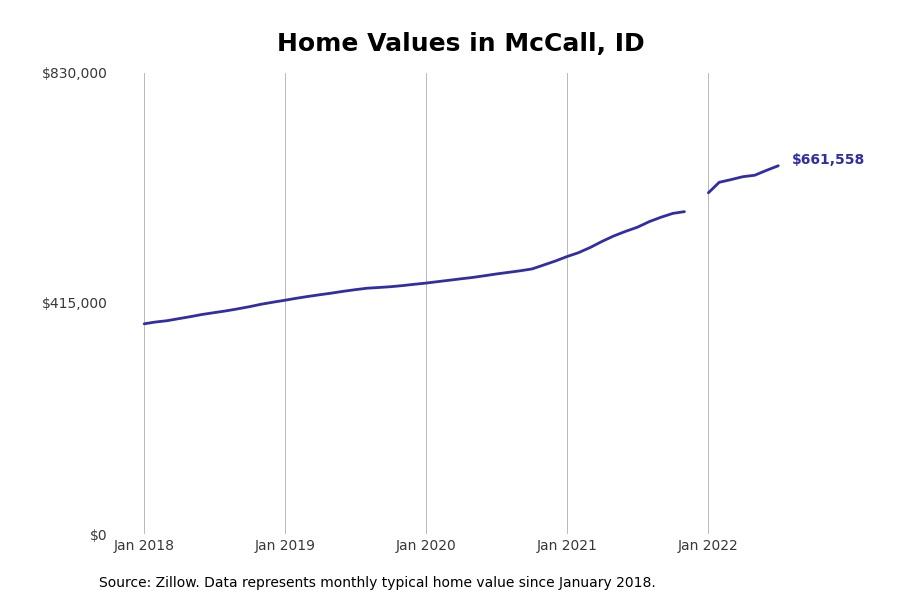 Stacker
#14. McCall
– Typical home value: $661,558
– 1-year price change: +20.0%
– 5-year price change: +84.3%
– Metro area: not in a metro area
---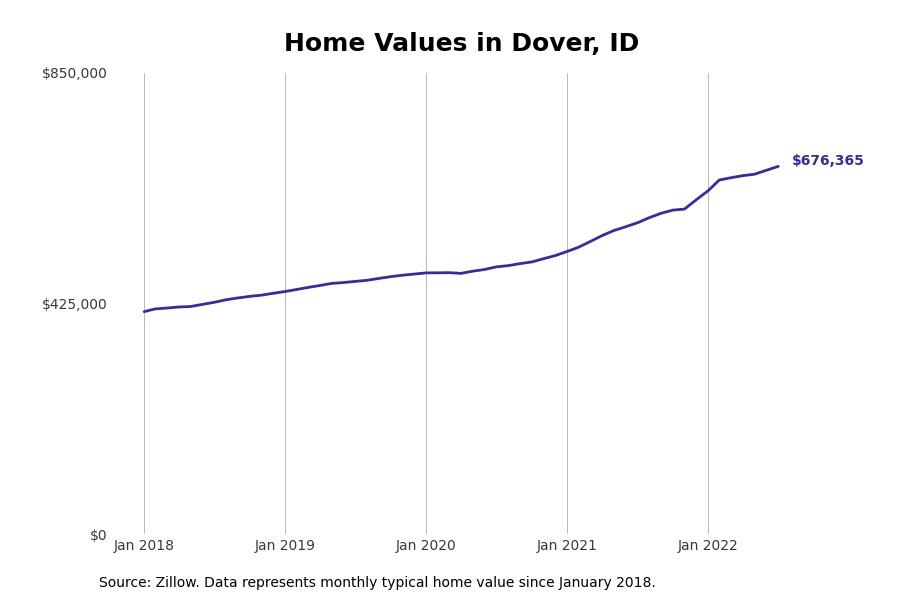 Stacker
#13. Dover
– Typical home value: $676,365
– 1-year price change: +18.1%
– 5-year price change: +72.3%
– Metro area: Sandpoint
---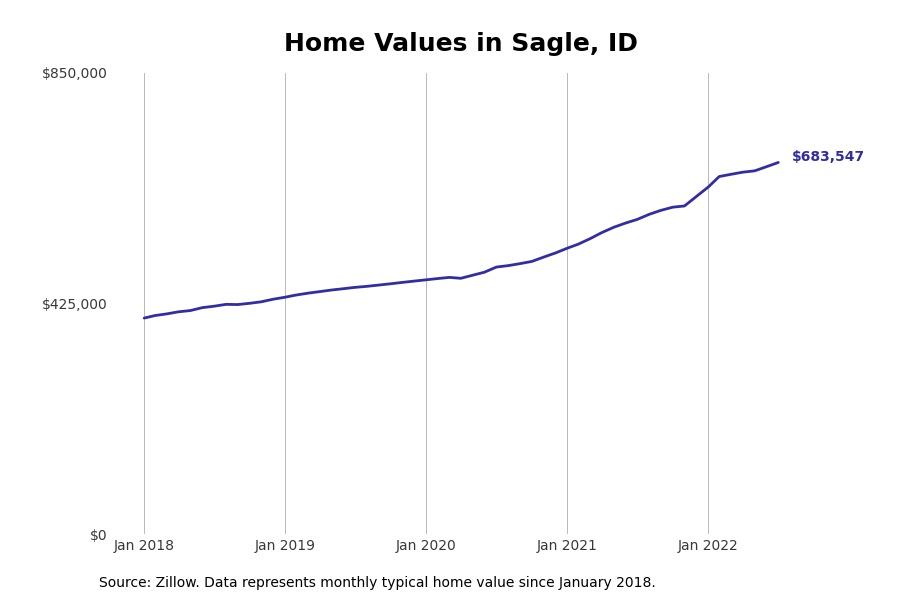 Stacker
#12. Sagle
– Typical home value: $683,547
– 1-year price change: +18.1%
– 5-year price change: +80.0%
– Metro area: Sandpoint
---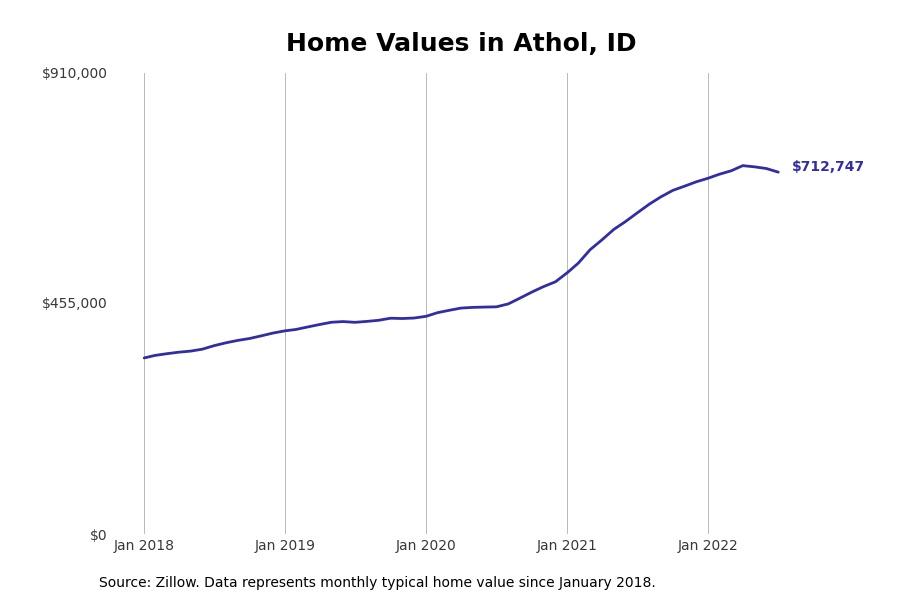 Stacker
#11. Athol
– Typical home value: $712,747
– 1-year price change: +12.7%
– 5-year price change: +118.7%
– Metro area: Coeur d'Alene
You may also like: What to know about workers' compensation in Idaho
You may also like: Where people in Idaho are moving to most
---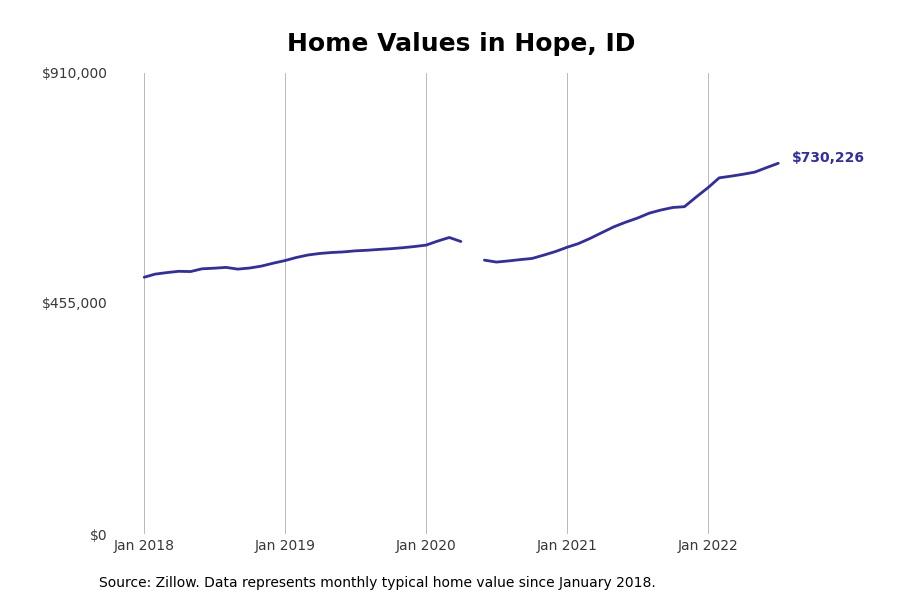 Stacker
#10. Hope
– Typical home value: $730,226
– 1-year price change: +17.4%
– 5-year price change: +50.3%
– Metro area: Sandpoint
---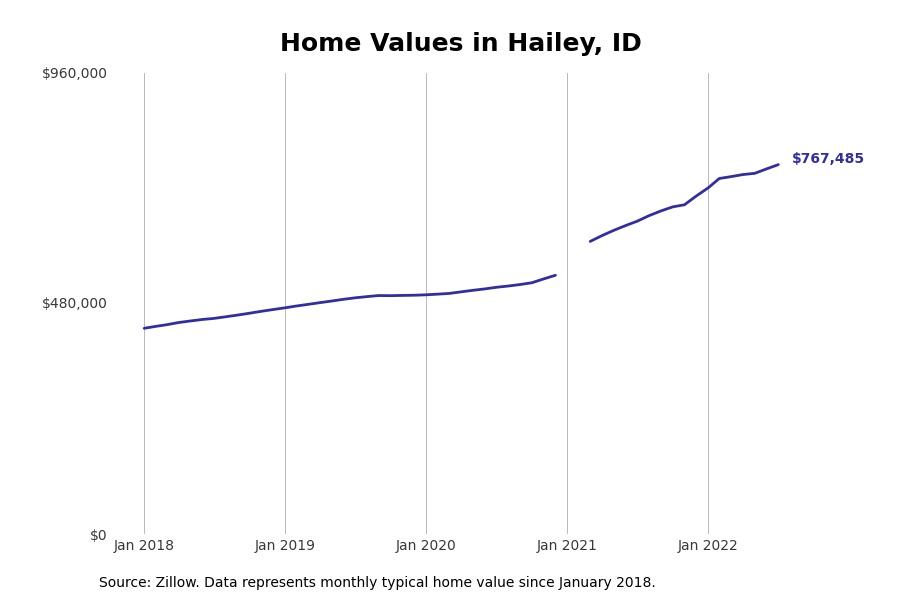 Stacker
#9. Hailey
– Typical home value: $767,485
– 1-year price change: +18.1%
– 5-year price change: +89.1%
– Metro area: Hailey
---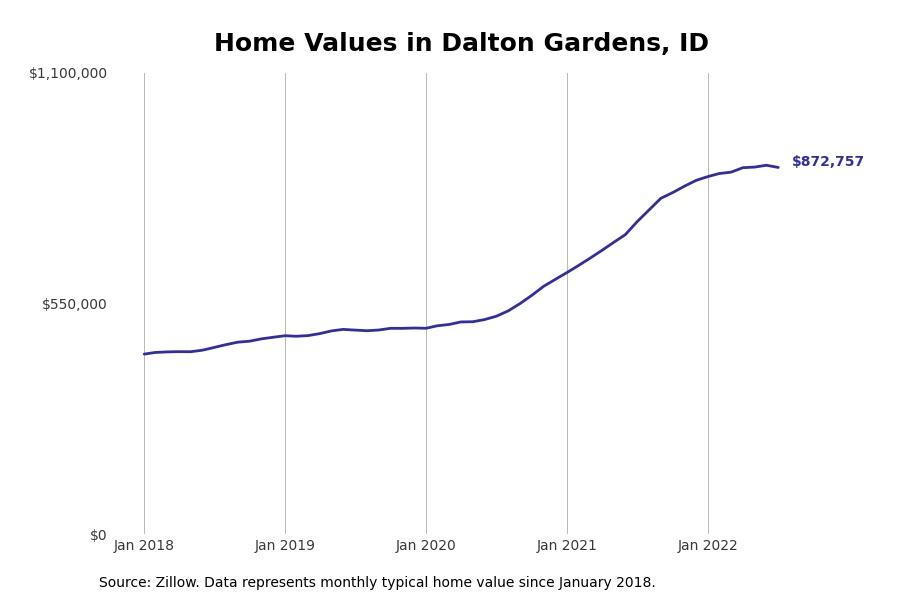 Stacker
#8. Dalton Gardens
– Typical home value: $872,757
– 1-year price change: +17.3%
– 5-year price change: +115.9%
– Metro area: Coeur d'Alene
---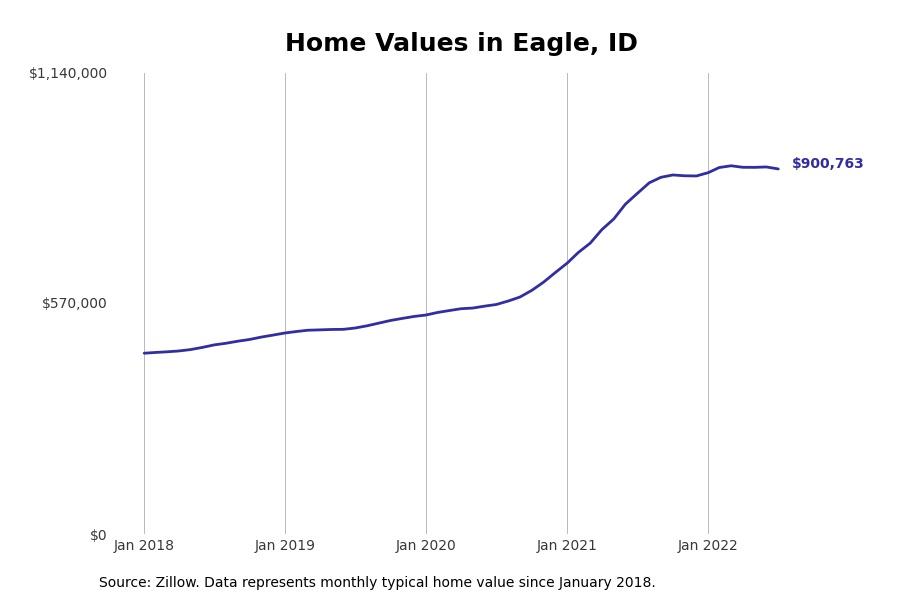 Stacker
#7. Eagle
– Typical home value: $900,763
– 1-year price change: +7.2%
– 5-year price change: +114.7%
– Metro area: Boise City
---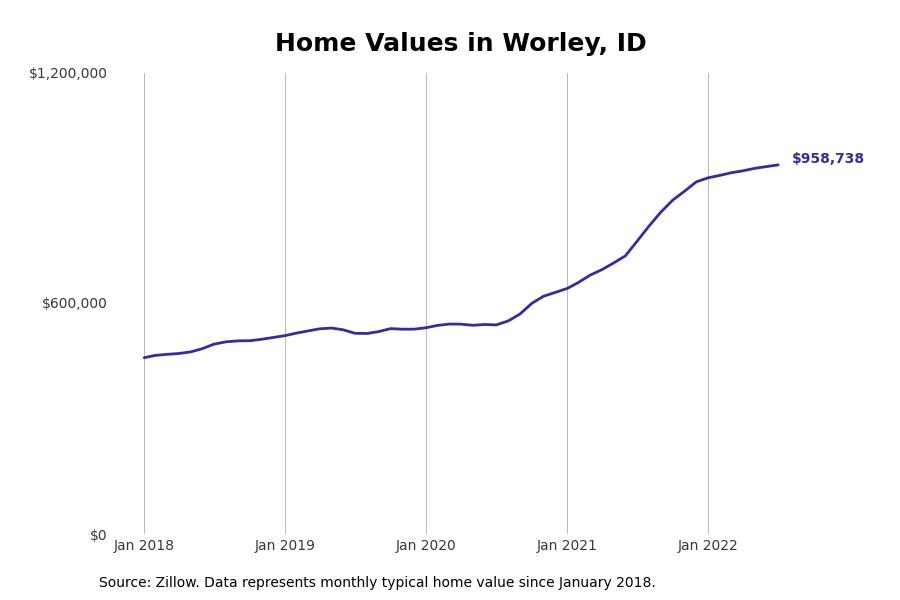 Stacker
#6. Worley
– Typical home value: $958,738
– 1-year price change: +25.9%
– 5-year price change: +111.0%
– Metro area: Coeur d'Alene
You may also like: Highest-rated football recruits from Idaho over the last 20 years
You may also like: Highest-rated museums in Idaho
---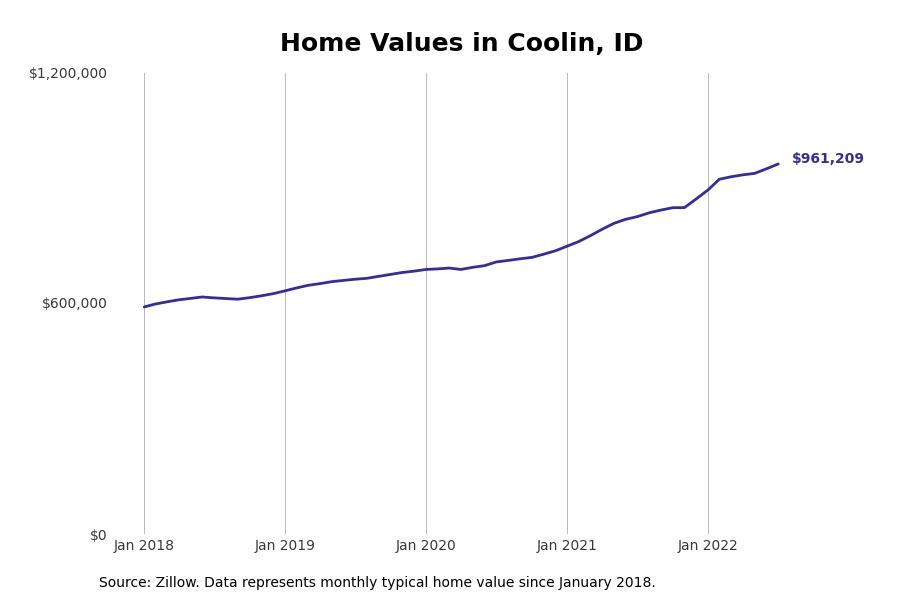 Stacker
#5. Coolin
– Typical home value: $961,209
– 1-year price change: +16.6%
– 5-year price change: +71.6%
– Metro area: Sandpoint
---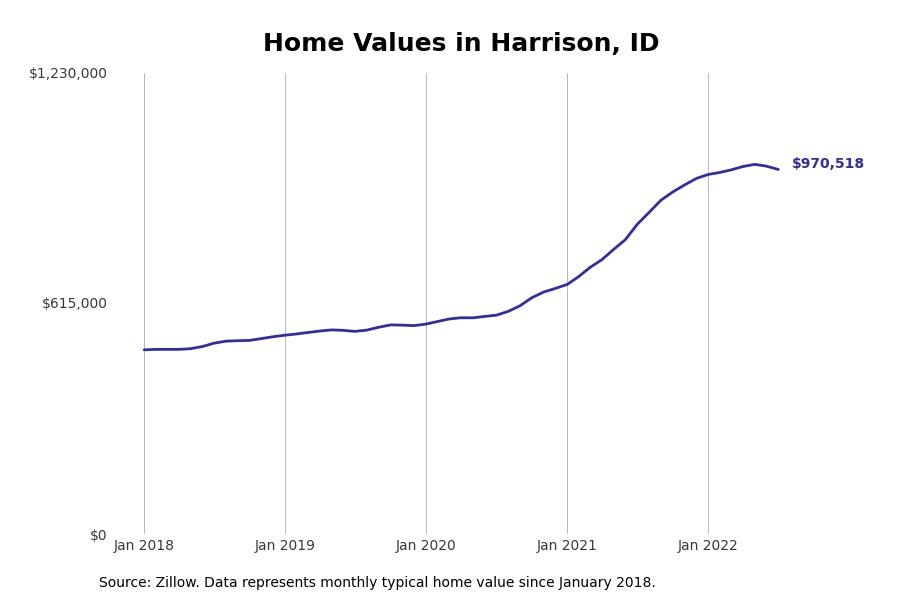 Stacker
#4. Harrison
– Typical home value: $970,518
– 1-year price change: +17.7%
– 5-year price change: +104.7%
– Metro area: Coeur d'Alene
---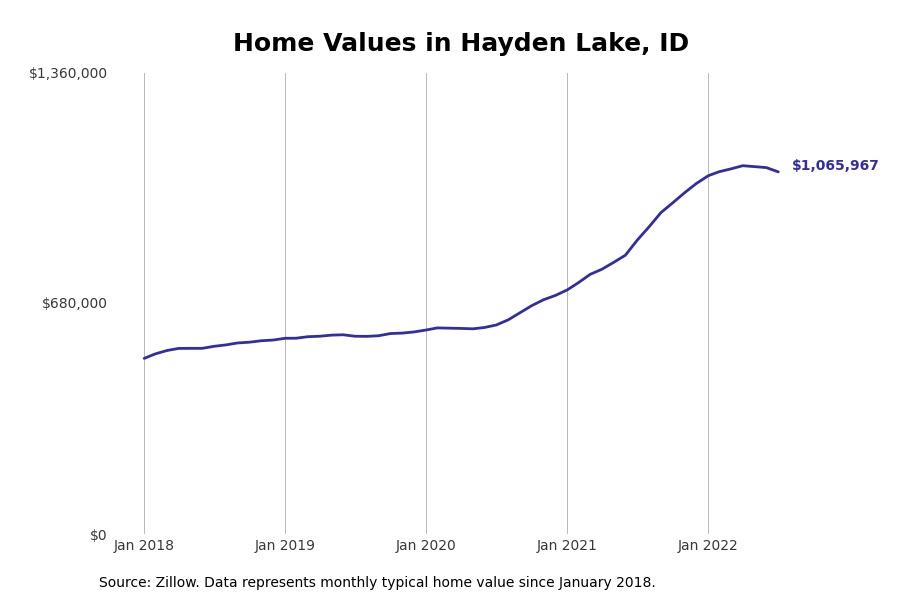 Stacker
#3. Hayden Lake
– Typical home value: $1,065,967
– 1-year price change: +23.2%
– 5-year price change: +114.3%
– Metro area: Coeur d'Alene
---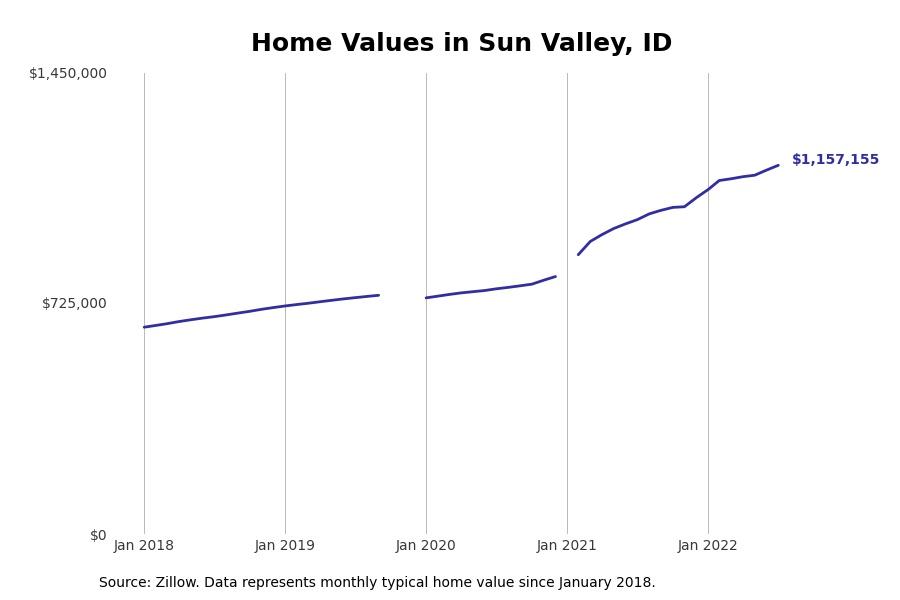 Stacker
#2. Sun Valley
– Typical home value: $1,157,155
– 1-year price change: +17.3%
– 5-year price change: +86.4%
– Metro area: Hailey
---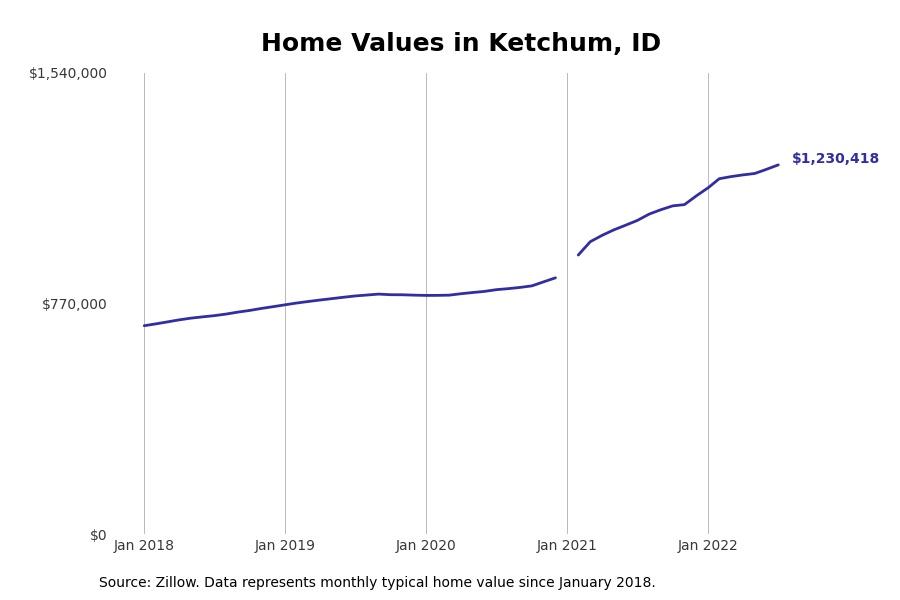 Stacker
#1. Ketchum
– Typical home value: $1,230,418
– 1-year price change: +17.7%
– 5-year price change: +85.4%
– Metro area: Hailey
You may also like: See how Idaho will be affected if Roe v. Wade is overturned
You may also like: Counties with the most super commuters in Idaho
---