Where in the US will heating your home cost less this winter?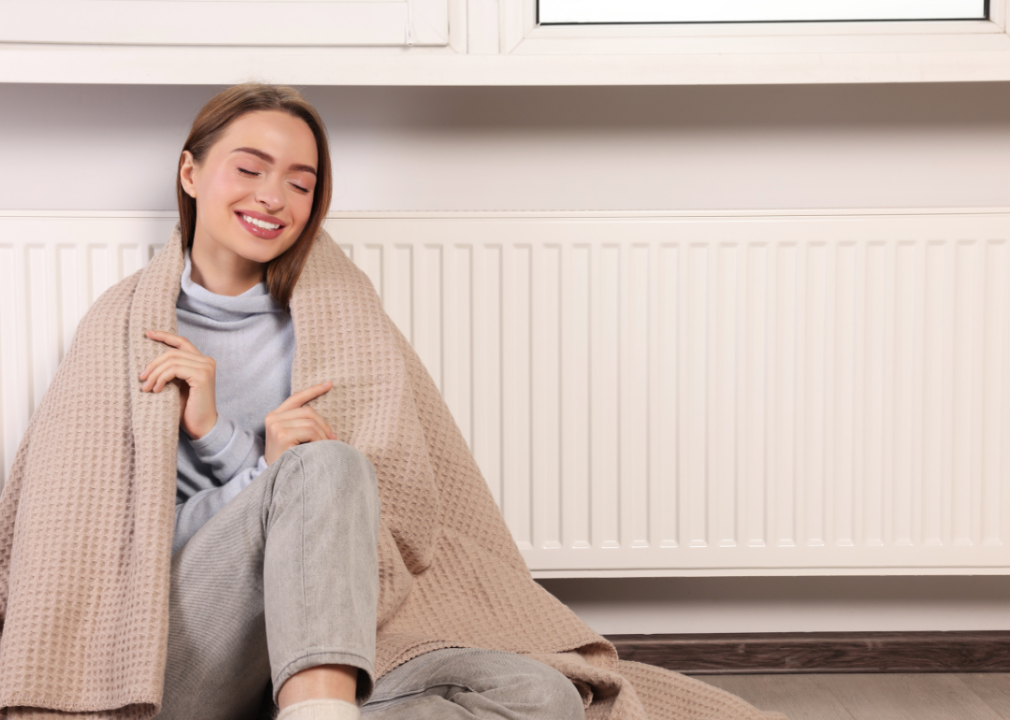 Canva
Where in the US will heating your home cost less this winter?
A young woman sits on the floor, wrapped in a blanket, near a wall radiator unit
Last winter, the Energy Information Administration (EIA) projected a steep 28% increase in heating expenditures via natural gas. However, with factors such as a higher-than-average natural gas inventory and a milder winter expected this year, heating costs for the upcoming 2023 to 2024 winter are expected to be significantly less expensive than the previous year.
To explore how natural gas prices could affect U.S. households this winter, MoneyGeek analyzed data from the EIA to find which states are expected to see the largest changes in heating prices this year. This analysis also determined which regions are expected to see the most significant bill decreases since last winter.
Key findings
Nationally, natural gas is expected to cost customers 21% less during winter 2023–2024 than last winter, equating to $22 less monthly.
Natural gas customers in the West are projected to see a 29% decrease in their heating bills this year — the highest price decrease of any region.
Illinois residents will have the highest heating bill in the U.S. It'll cost around $133 per month to heat their homes with natural gas.
Oklahoma is the only southern state in the 10 most expensive states for winter heating, estimated to cost residents approximately $128 monthly.
---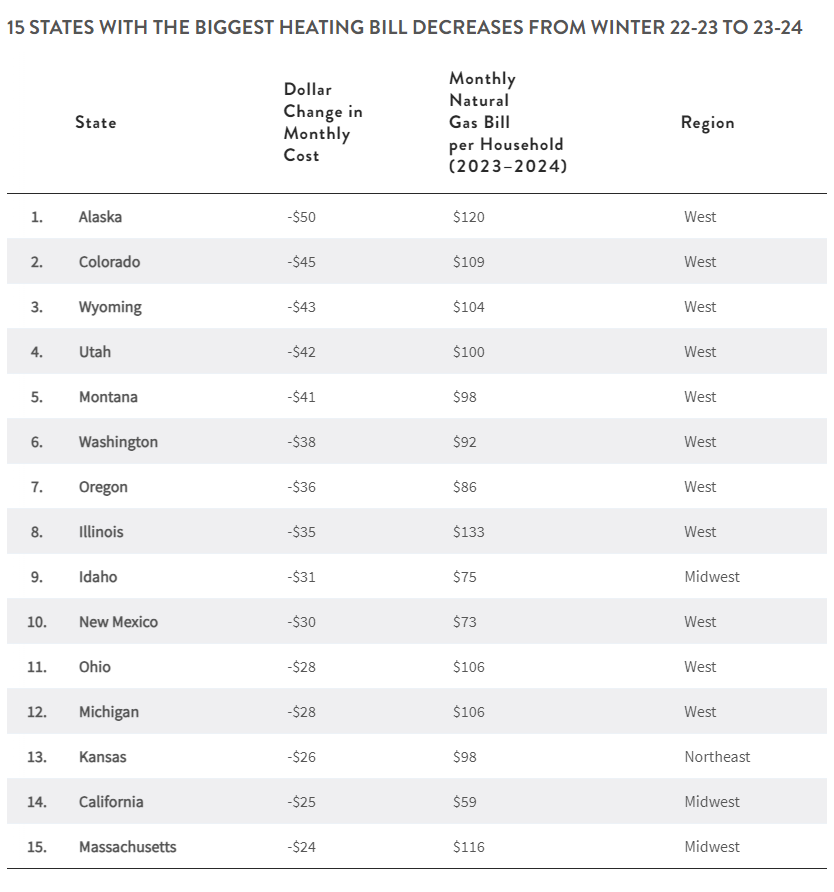 MoneyGeek
States with the biggest declines in winter heating costs
A chart showing the 15 states with the biggest heating bill decreases from winter 22-23 to 23-24
Using household data from the recently-released EIA Residential Energy Consumption Survey, natural gas consumption figures and average residential prices, MoneyGeek forecasted average heating bills across the U.S. and ranked the states with the highest savings in expected heating bills for winter 2023–2024.
Alaska residents are expected to have the largest savings in heating bills of any state this winter, at an estimated difference of $50 per month. Though the cost of heating will be lowest in the South, nine of the 10 states with the highest savings compared to last winter are located in the West.
Regions with the largest winter heating price decreases
Overall, natural gas customers across the country will see a decline of 21% in their heating costs this winter; however, price increases won't impact every region of the United States equally. Below, MoneyGeek ranked the areas with the highest expected percentage decreases in heating costs this winter, along with the top three most expensive states for heating in each region.
1. The West
With an expected decrease of 29%, the West will experience the highest average reduction in heating costs this winter. When looking at average monthly heating bills per state in this region, the most expensive are Alaska ($120), Colorado ($109) and Wyoming ($104). However, each of these states also has the largest decreases in savings compared to last winter (over $43 monthly).
2. The Midwest
Trailing close behind as the region with the second most significant decrease in heating costs is the Midwest, where residents can expect a price decline of 21% in heating costs this season. How much is the heating bill per month here? In the most expensive state, Illinois, residents can expect to pay $133 per month. Following behind are customers in Ohio, who will likely pay $106; those in Michigan are expected to pay $106 per month. In these states, residents will see the largest savings compared to last winter (over $28 per month).
3. The Northeast
Keeping your home warm will also be 17% less expensive in the Northeast this year. The priciest states for heating in this region are Massachusetts ($116), Connecticut ($113) and New York ($105). However, customers in these states will save $22 or more on average this winter compared to last.
4. The South
Residents in the South will pay 15% less in Winter 2023 than in 2022. The highest heating costs can be found in Oklahoma ($128), Maryland ($98) and North Carolina ($90). However, when comparing average heating expenses between last winter and this upcoming wintertime, the biggest savings are found in these same states, where customers are projected to save over $15 per month on their winter heating bill this year.
---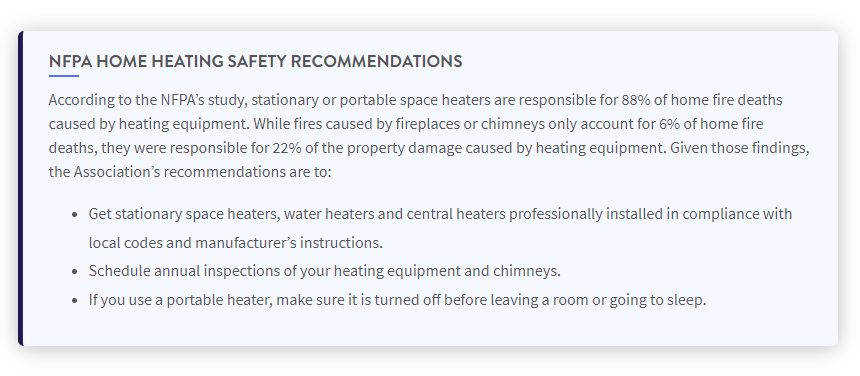 MoneyGeek
The safety risks of using alternative heating methods to save money
a text graph showing NFPA home heating safety recommendations
While alternative heating methods — such as space heaters and fireplaces, are available — the National Fire Protection Association's (NFPA) 2022 Home Heating Fires Report warns against the increased dangers and highlights that heating equipment is the leading cause of fires in U.S. homes.
Before using alternative heating methods, consider getting help with your heating bill or exploring other ways to save on your heating costs. Some households may qualify for the Low Income Home Energy Assistance Program (LIHEAP), which can help cover some heating costs. Taking steps to winterize your home can also help save on heating costs while minimizing risks.
Exploring these avenues can be especially advantageous when considering that insurance coverage varies when it comes to alternative heating methods. While turning on a space heater or lighting a fire in your fireplace may help you save money on your monthly heating bill, many homeowners may find out too late they are not fully covered in the event of a house fire caused by these sources. Therefore, it's essential to understand which of the top winter home insurance claims your policy covers. Before using alternative heating methods, learn about the risks and find an affordable renters insurance plan or buy a quality home insurance policy to protect your property in the event of an accident.
Methodology
MoneyGeek analyzed data from the U.S. Energy Information Administration (EIA) to estimate how much more natural gas heating will cost around the country this winter (2023–24) than it did last (2022–2023). Gas consumption data and retail prices for residential customers from November 2022 were used to determine 2022 natural gas heating bills per household. Our data team utilized the EIA's Winter Fuels Outlook to determine how consumption and prices will change for winter 2023–2024.
MoneyGeek used household data from the 2020 EIA Residential Energy Consumption Survey (RECS) — the latest release — to estimate the number of households using natural gas. We used this figure to help estimate natural gas expenditures per household in each state for 2023–2024.
Limitations: Regional projections for consumption and prices from the EIA were used to generate 2023-2024 figures rather than projections for each state. This methodology reflects the percentage increase figures for states in each of those regions.
Full data set
The data points presented are defined as follows:
Rank: Ranked in order of largest to smallest projected Change in Monthly Cost.
Change in Monthly Cost: The difference between the monthly household natural gas bill in winter 2023–2024 and winter 2022–2023.
Monthly Natural Gas Bill per Household (2023–2024): Uses EIA Winter Fuels Outlook projections by region — considering increased consumption and prices — to estimate natural gas heating costs per household per month.
Monthly Natural Gas Bill per Household (2022–2023): Calculated by multiplying total residential consumption (McF) by residential retail prices from November 2022, divided by the total number of households using natural gas for heating purposes.
This story was produced by MoneyGeek and reviewed and distributed by Stacker Media.
---